Effects of Dam Gate Geometry on Pressure Variation Aided by Map Presentation
Keywords:
Bottom pressure coefficient, Downpull force, Flow pattern, Lip gate shapes, Vertical lift gate
Abstract
The dam vertical lift gate is one of the most important operational parts that regulate the high head water flow to power plants as well as satisfying the water needs for projects and areas downstream of the dam. Due to the high water levels in the dam reservoir, the gates are subjected to many hydrostatic and dynamic pressures that affect their performance and stability. Hence, it became necessary to study all parameters that may cause excessive pressures which may lead to reduce the gate performance efficiency or even cause failure. In the current study, the pressure distribution along the bottom surface of various gate lip shapes has been measured and presented as contour maps using Surfer software. The pressure fluctuation was observed to indicate the intensity of flow separation and reattachment which, in turn, causes a vibration that may threaten the stability of the gate or impede its proper functioning. The pressures in this study are expressed as a dimensional coefficient through the integration of pressure measurements at 8 points distributed over the bottom gate surface. The high intensity of pressure attachment indicates the critical condition for hydraulic design.
Downloads
Download data is not yet available.
References
Ahmed, T. M. 1999. Effect of Gate Lip Shapes on the Downpull Force in Tunnel Gates, Ph. D. Thesis Submitted to the College of Engineering. University of Baghdad, Iraq.
Ahmed, T. M. 2016. Experimental study of pressure coefficient along inclined bottom surface of dam Tunnel gate. Euras. J. Sci. Eng. 1(2): 52-53.
Alhashimi, S. A., M. T. Al-Kifae and R. M. Almaini. 2010. Prediction downpull force on tunnel gate with different gate lip geometry. J. Kerbala Univ. 8(4): 273-288.
Bhargava, V. P. and S. Narasimhan. 1989. Pressure fluctuations on gates. J. Hydraul. Res. 27: 215-231.
Donald, C. 1959. Hydraulic downpull forces on high head gates. J. Hydraul. Div. 85(11): 39-52.
Drobir, H., V. Kienberger and K. Seyerl. 2001. Downpull on Tunneltype High-head Leaf Gates. In: Proceedings of the Congress, International Association for Hydraulic Research. p473-478.
Elder, R. A. and J. M. Garrison. 1964. Form-induced hydraulic forces on three-leaf intake gates. J. Hydraul. Div. 90: 215-233.
Khosrojerdi, A. 2012. Hydraulic studies of pressure distribution around vertical lift gates. Indian J. Sci. Technol. 5(3): 2268-2272.
Naudascher, E., H. Kobus and R. P. R. Rao. 1964. Hydrodynamic analysis for high-head leaf gates. J. Hydraul. Div. 90(3): 155-192.
Naudascher, E. 1991. Hydrodynamic Forces. Structure Design Manual, International Association of Hydro Research, Stockholm, Sweden.
Peter, M. S. and M. J. Garrison. 1964. Hydraulic Downpull on ICE Harbor Power Gate. 3rd ed. A Water Resources Technical, United states.
Sagar, B. 1978. Prediction of Gate Shaft Pressure in Tunnel Gate. Water Power and Dam Construction, United states.
Sagar, B. T. A. 1977. Downpull in High-head Gate Installations. Colorado State University, Colorado.
Thang, N. D. 1990. Gate vibrations due to unstable flow separation. J. Hydraul. Eng. 116: 342-361.
Thang, N. D. and E. Naudascher. 1983. Approach-flow effects on downpull of gates. J. Hydraul. Eng. 2016: 1521-1539.
Uysal, M. A. 2014. Prediction of Downpull on High Head Gates Using Computational Fluid Dynamics, Master's Thesis, PhD Thesis. Middle East Technical University, Turkey.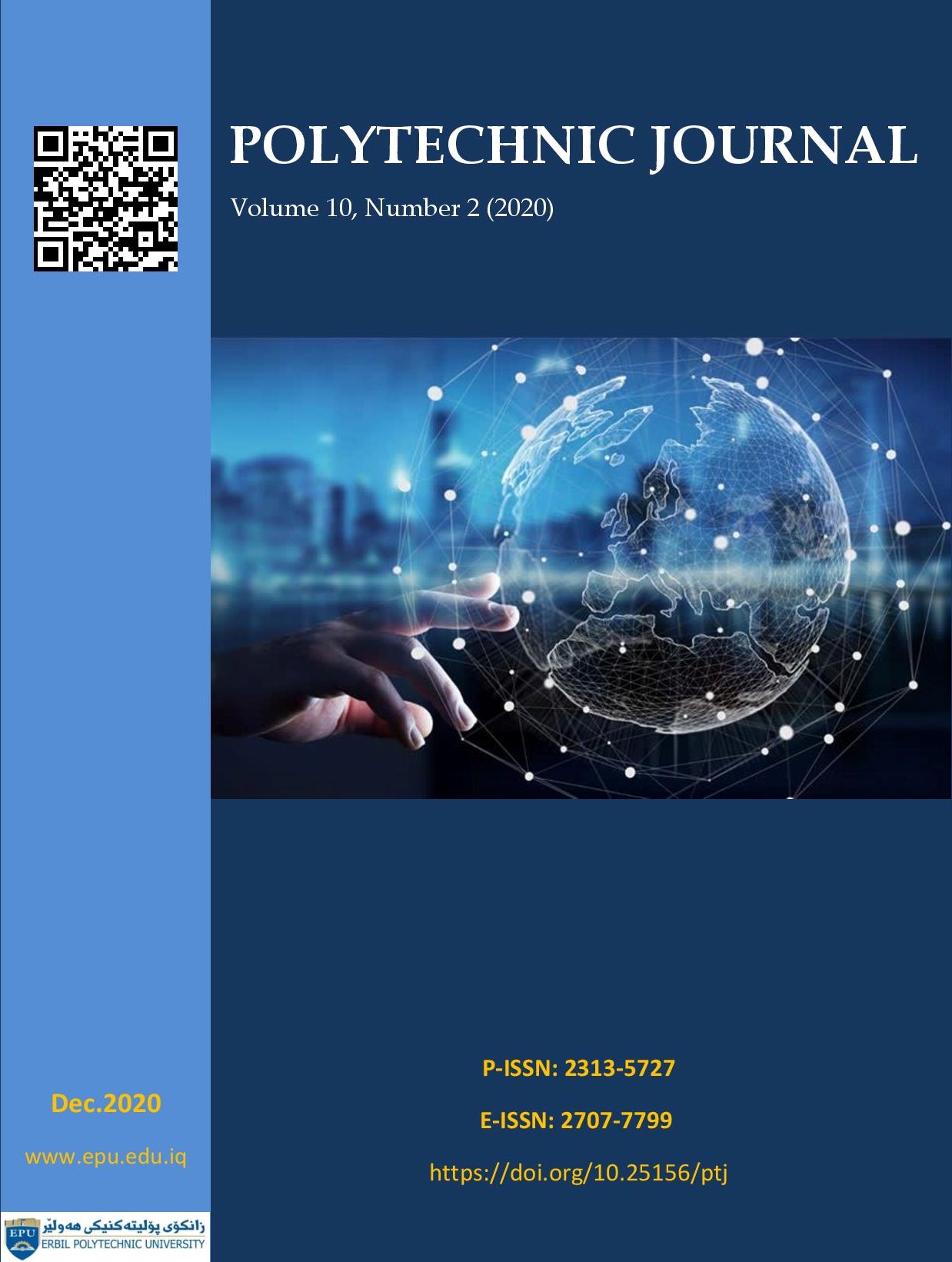 Downloads
How to Cite
Ameen, S. M., & Ahmed, T. M. (2020). Effects of Dam Gate Geometry on Pressure Variation Aided by Map Presentation. Polytechnic Journal, 10(2), 44-52. https://doi.org/10.25156/ptj.v10n2y2020.pp44-52
Section
Research Articles
License
Copyright (c) 2020 Sheeraz M. Ameen, Thamir M. Ahmed
This work is licensed under a Creative Commons Attribution-NonCommercial-NoDerivatives 4.0 International License.
Authors who publish with this journal agree to the following terms:
1. Authors retain copyright and grant the journal right of first publication with the work simultaneously licensed under a Creative Commons Attribution License [CC BY-NC-ND 4.0] that allows others to share the work with an acknowledgment of the work's authorship and initial publication in this journal.
2. Authors are able to enter into separate, additional contractual arrangements for the non-exclusive distribution of the journal's published version of the work (e.g., post it to an institutional repository or publish it in a book), with an acknowledgment of its initial publication in this journal.
3. Authors are permitted and encouraged to post their work online (e.g., in institutional repositories or on their website) prior to and during the submission process, as it can lead to productive exchanges, as well as earlier and greater citation of published work (See The Effect of Open Access).