Simultaneous Determination of Atenolol and Amlodipine Using Second Derivative Spectroscopy
Keywords:
Atenolol, Amlodipine, Second derivative spectroscopy
Abstract
The present study describes employing second derivative spectrophotometry for simultaneous determination of atenolol and amlodipine in pure form and in commercial formulations. The method is simple, accurate, precise and economic. Zero crossing point technique was used for analysis of the drugs in the combined formulation. The method was found to be linear in the concentration range 5.0-50.0µg/ml of atenolol at 251nm and 5.0-45.0µg/ml of amlodipine at 264nm. The proposed method was successfully applied to determine atenolol and amlodipine in combined dosage as well as in a separate dosage. The obtained results were in good agreement with standard method.
Downloads
Download data is not yet available.
References
Agrekar AP, Powar SG. 2000. Simultaneous determination of atenolol and amlodipine in tablets by high performance thin layer chromatography, J Pharm Biomed Anal, 21:1137.
Ayad M.M., Abdellatef H.E., Hosny M.M. and Sharaf Y.A. 2012. Spectrophotometric and Spectrofluorimetric Determination of amlodipine besylate and doxazosin mesilate in bulk and in dosage forms via Hantzsch Reaction, J. Int. J. Pharm. Biomed. Res, 3 (2),111-116.
Bhusari V. K. and Dhaneshwar. S. R. 2012. Validated HPTLC Method for Simultaneous Estimation of Atenolol and Aspirin in Bulk Drug and Formulation, J. Int. ISRN Analytical Chemistry. Vol. 2012, Article ID 609706: 5 pages.Bresford AP, Marcrac PV, Stopher DA. 1987. Analysis of amlodipine in human plasma by gas chromatography. J Chromatogr, 420,178-183.
British Pharmacopoeia Commission. 2009. British pharmacopeia. The Stationery Office, London.
Chitlange S, Imran M, Sakarkar DM. 2009. RP‐HPLC method for simultaneous estimation of amlodipine and metoprolol in tablet formulation, Asian Journal of Pharmaceutics,Oct-Dec, 232‐234.
Godge R.K., Shinde G.S. and Dighe N. S. 2017. Quantitative Estimation and Validation of Atenolol and Amlodipine Besylate by Absorbance Ratio (Q) Method. J. ejpmr,4 (7), 412-415.
Halker UP, Bhandari NP, Rane SH. 1988. High performance liquid chromatographic simultaneous determination of amlodipine andenalapril maleate from pharmaceutical preparation., Indian Drugs, 35 :168-171.
Jain HK, Agrawal RK. 2000. Spectroscopic methods for simultaneous determination of amlodipine besylate and lisinopril in tablets, Indian Drugs, 43 ,111.
Josefsson M, Zackrisson AL, Norlander B.1995. Sensitive high performance liquid chromatographic analysis of amlodipine in human plasma with amperometric detection and a single step solid phase sample preparation, J Chromatogr B Biomed Appl, 672,310-313.
Kasture AV, Ramteke M.2006. Simultaneous UV‐Spectrophotometric method for the estimation of atenolol and amlodipine besylate in combined dosage form. Indian J Pharm Sci ; 68( 3)394‐396.
Meghna P.P., Raj H. and Nehal S.2014. First order Derivative Spectrophotometric Method for Simultaneous Estimation of Amlodipine Besylate and Indapamide in Combined Pharmaceutical Dosage Form, J. Asian Journal of Research in Chemistry. 7( 7), 615-618.
Moraes J.T., Eisele A.P., Salamanca-Neto C.AR., Scremin J. and Sartori E.R.2016. Simultaneous Voltammetric determination of antihypertensive drugs amlodipine and atenolol in pharmaceuticals using a cathodically Pretreated boron-doped diamond electrode. J. Brazilian Chemical Society, 27 (7),1264-1272.
Palani Sh. and Kamarapu S.K.2017. RP-HPLC Method for the Simultaneous Estimation and Validation of amlodipine Besylate and Atenolol in Bulk and Tablet Dosage for Biorelevant Dissolution Medium (Fassif).J. Research Journal of Pharmacy and Technology,10 (10), 3379-3385.
Patel A. 2013. Development Validation of Derivative Spectoscopic Method for Simultaneous Determination of Nebivolol Hydrochloride and S- Amlodipine Besylate in Combined Dosage, International Journal of Pharma and Bio Sciences, 4 (3) , 379-391.
Patil PR, Rakesh SU, Dhabale PN, Burade KB.2009. Simultaneous UV spectrophotomtric method for estimation of losartan Potassium and amlodipine besylate in tablet dosage form, Asian J Research Chem, 2 ( 1),183‐187.
Patki RV, Tamhanker CP, Tipnis HP.1994. Simple and rapid high performance liquid chromatographic estimation of amlodipine in pharmaceutical dosage forms. Indian Drugs , 31, 560-561.
Pawar P.A., Mane B.Y., Auti S.M. and Trivedi V.V.2013. Simultaneous Estimation of Atenolol and Amlodipine Besylate in Tablets Formulations by Vierodt̕ s Method Using U.V Spectrophotometry, Der Pharma Chemica,5(2),97-102.
Rathee P, Rathee S, Thakur S and Kumar V.2010. Simultaneous estimation of Amlodipine Besylate and Lisinopril Dihydrate as A.P.I. and in tablet dosage forms by modified form of simultaneous equation method using derivative UV Spectrophotometry. International Journal of Pharm Tech Research, 2(1), 556-562.
Prasad CV, Parihar C, Chowdhary TR.1998. Simultaneous determination of atenolol–amlodipine and haloperidol– trihexaphenidyl in combined tablet preparations by derivative spectroscopy. Pharm Pharmacol Commun 4(7),325-330.
Rahman N, Najmul S, Azmi H. 2001. Spectrophotometric method for the determination of amlodipine besylate with ninhydrin in drug formulation, Farmaco, 56 (10), 731‐735.
Rahman N. and Azmi S.N.H. 2000 Spectrophotometric Determination of Amlodipine Besylate by Charge- Transfer Complex Formation with P-Chloranilic Acid, J. The Japan Society for Analytical Chemistry, 16,1353-1356
Ravishankar S, Nanjan MJ, Vasudevan M, Shaat N and Suresh B.1997. Simultaneous estimation of atenolol and amlodipine in formulation by reversed phase‐ HPLC.Ind J Pharm Sci , 59 ,171-173
Shimooka K, Sawada Y, Tatematsu H.1989. Analysis of amlodipine by a sensitive high performance liquid chromatography method with amperometric detection. J Pharm Biomed Anal, 7,1267-1272.
Umapathi P.1994. Determination of Atenolol, Nifedipine, Aspirin and Dipyridamole in Tablet Preparations by Second- Order Derivative Spectrophometry, Int. J. of Pharmaceutics, 108(1),11-19.
Yeung PK, Mosher SJ, Pollack PT.1991. High performance liquid chromatography assay for amlodipine: chemical stability and pharmacokinetics in rabbits. J Pharm Biomed Anal , 9, 565-571.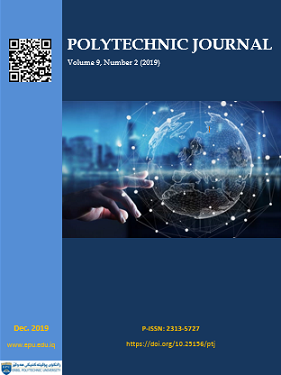 Downloads
How to Cite
Mohammad, M. Y. ., Abdullah, M. S. ., & Sabir, S. S. . (2019). Simultaneous Determination of Atenolol and Amlodipine Using Second Derivative Spectroscopy. Polytechnic Journal, 9(2), 25-29. https://doi.org/10.25156/ptj.v9n2y2019.pp25-29
Section
Research Articles
License
Copyright (c) 2019 Muharram Y. Mohammad, Mohammad S. Abdullah, Sangar S. Sabir
This work is licensed under a Creative Commons Attribution-NonCommercial-NoDerivatives 4.0 International License.
Authors who publish with this journal agree to the following terms:
1. Authors retain copyright and grant the journal right of first publication with the work simultaneously licensed under a Creative Commons Attribution License [CC BY-NC-ND 4.0] that allows others to share the work with an acknowledgment of the work's authorship and initial publication in this journal.
2. Authors are able to enter into separate, additional contractual arrangements for the non-exclusive distribution of the journal's published version of the work (e.g., post it to an institutional repository or publish it in a book), with an acknowledgment of its initial publication in this journal.
3. Authors are permitted and encouraged to post their work online (e.g., in institutional repositories or on their website) prior to and during the submission process, as it can lead to productive exchanges, as well as earlier and greater citation of published work (See The Effect of Open Access).