Estimation of Serum Homeostasis Model Assessment-Insulin Resistance and Lipid Profile in Beta-thalassemia Major Patients and their Correlation with Iron Overload in Koya City
Keywords:
Homeostasis model assessment-insulin resistance, Lipid profile and iron overload, Major beta-thalassemia
Abstract
The current study focused on 43 patients who suffer from major beta-thalassemia at the hospital of shaheed Dr. Khaled in the Koya city. Out range, age of cases was 8.03 ± 4.0 and of controls was 7.81 ± 3.11 years. Our aim is to observe the prevalence of homeostasis model assessment-insulin resistance and other physiological and biochemical changes in major beta-thalassemia. While we a significant changes confirm that serum glucose concentration was significantly higher in the patients than in the controls (P ? 0.01) and lipid abnormality occurs in beta-thalassemia major patients, which include high-density lipoprotein-cholesterol (HDL-C), low-density lipoprotein-cholesterol (LDL-C), serum total cholesterol (TC), serum triglycerides (TG), and very-low-density lipoprotein (VLDL) levels compared with normal healthy controls. There was no significant difference between the serum insulin level of cases and controls (P = 0.214), the mean values of serum HDL-C, LDL-C, TC, TG, and VLDL in cases were 29.5 ± 7.8, 65.2 ± 1.9, 121.9 ± 36.7, 182.09 ± 43.1, and 26.47 ± 12.13 mg/dl, respectively. Moreover, the mean values of serum HDL-C, LDL-C, TC, TG, and VLDL in controls were 48.6 ± 4.2, 79.7 ± 14.5, 178.7 ± 14.6, 124.14 ± 12.1, and 23.52 ± 5.47 mg/dl, respectively. In conclusion, the results suggested that revealed that beta-thalassemia patients had hypertriglyceridemia, hypocholesterolemia, and low LDL-C, and HDL-C levels.
Downloads
Download data is not yet available.
References
Agarwal, S., A. Gupta, U. Gupta, S. Sarwai, S. Phadke and S. Agarwal. 2003. Prenatal diagnosis in beta-thalassemia: An Indian experience. Fetal Diagn. Ther. 18(5): 328-332.
Al-Quobaili, F. A. and I. E. A. Asali. 2004. Serum levels of lipids and lipoproteins in Syrian patients with
beta- halassemia major. Saudi Med. J. 25(7): 871-875.
Ambekar, S., M. Phadke, D. Balpande, G. Mokashi, V. Khedkar, M. Bankar and D. Basutkar. 2001. The prevalence
and heterogeneity of beta thalassemia mutations in the western Maharashtra population: A hospital based study. Int. J. Hum. Genet. 1(3): 219-223.
Amendola, G., P. Danise, N. Todisco, G. D'urzo, A. Di Palma and R. Di Concilio. 2007. Lipid profile in β-thalassemia intermedia patients: Correlation with erythroid bone marrow activity. Int. J. Lab. Hematol. 29(3): 172-176.
Ariffin, A. A., K. A. Mahmood, M. S. Qadir, K. K. Saleh and K. M. Khudhir. 2017. Association between work-relate musculoskeletal disorder and ergonomic risk factors among nursing professionals in Ranya and Qalat Diza districts. Kurdistan J. Appl. Res. 2(2): 65-70.
Calandra, S., S. Bertolini, G. M. Pes, L. Deiana, P. Tarugi, L. Pisciotta and C. Maccarone. 2004. Β-thalassemia is a Modifying Factor of the Clinical Expression of Familial Hypercholesterolemia. Paper Presented at the Seminars in Vascular Medicine.
Danjou, F., F. Anni and R. Galanello. 2011. Beta-thalassemia: From genotype to phenotype. Haematologica. 96(11): 1573-1575.
Driscoll, M. C., A. Hurlet, L. Styles, V. McKie, B. Files, N. Olivieri and K. Patel. 2003. Stroke risk in siblings with sickle cell anemia.Blood. 101(6): 2401-2404.
Haghi, M., S. Khorshidi, M. A. H. Feizi, N. Pouladi and A. A. H. Feizi. 2009. β-Thalassemia mutations in the Iranian Kurdish population of Kurdistan and West Azerbaijan provinces. Hemoglobin. 33(2): 109-114.
Hashemieh, M., M. Javadzadeh, A. Shirkavand and K. Sheibani. 2011. Lipid profile in minor thalassemic patients: A historical cohort study. Bangladesh Med. Res. Counc. Bull. 37(1): 27-27.
Khaleel, K. J., A. A. Ahmed, M. M. Alwash and N. Y. Yaseen. 2013. Biomarkers and trace elements in beta thalassemia major. Iraqi J. Cancer Med. Genet. 6(1): 81-86.
Khattak, S. T. and J. Khan. 2004. Heterozygous beta thalassemia in parents of children with beta thalassemia major. Gomal J. Med. Sci. 4(2): 52-56.
Patne, A., P. Hisalkar and S. Gaikwad. 2012. Lipid abnormalities in patients of beta thalassaemia major. Int. J. Pharm. Sci. 2(1): 106-112.
Ricchi, P., M. Ammirabile, A. Spasiano, S. Costantini, T. Di Matola, P. Cinque, P and L. Prossomariti. 2009.
Hypocholesterolemia in adult patients with thalassemia: A link with the severity of genotype in thalassemia intermedia patients. Eur. J. Haematol. 82(3): 219-222.
Seddon, J. M., U. A. Ajani, R. D. Sperduto, R. Hiller, N. Blair, T. C. Burton and D. T. Miller. 1994. Dietary carotenoids, Vitamins A, C, and E, and advanced age-related macular degeneration. JAMA. 272(18): 1413-1420.
Shams, S., M. T. H. Ashtiani, M. Monajemzadeh, L. Koochakzadeh, H. Irani, F. Jafari and A. Mohseni. 2010. Evaluation of serum insulin, glucose, lipid profile, and liver function in β-thalassemia major patients and their correlation with iron overload. Lab. Med. 41(8): 486-489.
Sutay, N. R. 2016. Study of serum lipid profile in beta-thalassemia major patients. J. Med. Sci. Clin. Res. 4: 17-20.
Thein, S. L. 2005. Pathophysiology of β thalassemia a guide to molecular therapies. Hematol. Am. Soc. Hematol. Educ. Program. 1: 31-37.
Tuzmen, S. and A. Schechter. 2001. Genetic diseases of hemoglobin: Diagnostic methods for elucidating β- halassemia mutations. Blood Rev. 15(1): 19-29.
Weatherall, D. 2001. Phenotype genotype relationships in monogenic disease: Lessons from the thalassaemias. Nat. Rev. Genet. 2(4): 245.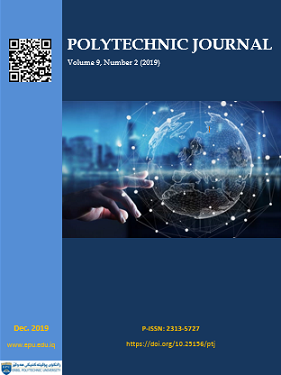 Downloads
How to Cite
Saleh, K. K., Abdullah, S. R., & Mekha, R. E. (2019). Estimation of Serum Homeostasis Model Assessment-Insulin Resistance and Lipid Profile in Beta-thalassemia Major Patients and their Correlation with Iron Overload in Koya City. Polytechnic Journal, 9(2), 125-132. https://doi.org/10.25156/ptj.v9n2y2019.pp125-132
Section
Research Articles
License
Authors who publish with this journal agree to the following terms:
1. Authors retain copyright and grant the journal right of first publication with the work simultaneously licensed under a Creative Commons Attribution License [CC BY-NC-ND 4.0] that allows others to share the work with an acknowledgment of the work's authorship and initial publication in this journal.
2. Authors are able to enter into separate, additional contractual arrangements for the non-exclusive distribution of the journal's published version of the work (e.g., post it to an institutional repository or publish it in a book), with an acknowledgment of its initial publication in this journal.
3. Authors are permitted and encouraged to post their work online (e.g., in institutional repositories or on their website) prior to and during the submission process, as it can lead to productive exchanges, as well as earlier and greater citation of published work (See The Effect of Open Access).